| | |
| --- | --- |
| The Lead Explorer Part 1 and 2 | |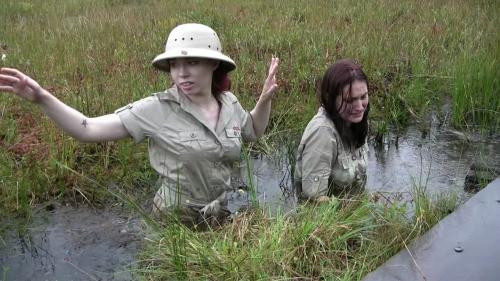 Starring these models:
"Sarah and Ludella walk in a quaking bog in wellies"
| | |
| --- | --- |
| File count: | 2 |
| Total size: | 694.39 MB |
| Runtime: | 20 mins, 50 secs |
| Released: | 8/09/16 |
| Views: | 3348 |
| Scene ID: | 19010 |
| Producer: | MessyDamsels |

$12.00
Ludella and Sarah are two safari girls having fun exploring a quaking bog. They playfully fight over who gets to wear the hat as the two girls walk into the bog in their rubber boots. They get their boots stuck multiple times. getting stuck numerous times. The bog makes squishing noises as they walk around. Sarah is very arrogant about being the "lead explorer" so when Sarah gets her leg stuck Ludella teases her about it. Ludella takes advantage of Sarah being stuck as a way to get the hat from her. Ludella then gets stuck knee deep making the water fill up her boots. While Ludella is stuck Sarah walks off and steps into some mud which she pretends she did intentionally to look at a frog. Out of stubborn pride both girls pretend to not be stuck. But as Sarah sinks deeper in the water mud she admits she's stuck and needs help. This ends part 1.

In part two Ludella manages to free herself but Sarah's struggling just makes her sink down to her waist. When Ludella tries to pull Sarah out she slips into the muddy water instead. They both struggle to get out and Ludella is able to grab on the ground behind her and slowly drag herself out but Sarah just sinks deeper down to her chest. Ludella then taunts Sarah as she pleads for help. At the end Sarah is left chest deep in the watery mud.
Includes these files:
didvp_leadexplorer_hd_pt2.mp4

1280x720

4,650 Kbps

347.48 MB

10.4 minutes
didvp_leadexplorer_hd_pt1.mp4

1280x720

4,660 Kbps

346.9 MB

10.4 minutes

Report