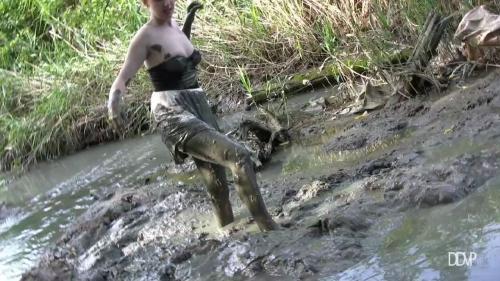 Starring the following model:
"Tara and Leila Sink In Quicksand"
| | |
| --- | --- |
| File count: | 1 |
| Total size: | 520.63 MB |
| Runtime: | 17 mins, 42 secs |
| Released: | 11/10/16 |
| Views: | 4220 |
| Scene ID: | 20236 |

$16.00
Tara Tied has convinced Leila Hazlett that there is something very important she needs to see. Leila reluctantly follows Tara along a river while complaining about having to get her heels wet in the process. Leila briefly gets her leg stuck in some mud as Tara walks on ahead. Once she is out of sight from Leila, Tara cleverly and carefully walks around a quicksand pit. Once Leila catches up Tara tricks Leila into walking right into the muddy pit. Leila gets stuck about calf deep at first and has to pump her legs up and down to get out. With her heels now coated in mud she keeps going forward but quickly gets stuck again. This time when she struggles she slowly sinks. She pulls up the bottom of her dress as her pantyhose covered legs slowly disappear into the clay-like mud. Once Leila sinks to her waist Tara admits to her plan to get revenge on Leila for sleeping with her boyfriend. Leila tries to reason with Tara as she slowly sinks but Tara has no interest in helping Leila out. Leila eventually sinks fully under and Tara tries to go home but gets lost and stumbles around in the mud. Tara keeps getting her legs stuck in the mud but she manages to make some progress by crawling on top of the mud. But as she goes forward she discovers another dip pit and sinks to her chest. She struggles as much as she can but keeps sinking all the way down to her chin. The video fades out with her still stuck in the quicksand.

Report