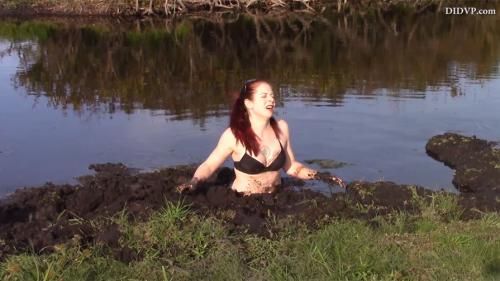 Starring the following model:
"Leila gets stuck in the mud in her bikini"
| | |
| --- | --- |
| File count: | 1 |
| Total size: | 520.36 MB |
| Runtime: | 7 mins, 10 secs |
| Released: | 10/24/15 |
| Produced: | 2015 |
| Views: | 5873 |
| Scene ID: | 15814 |

$8.00
Leila Hazlett is walking barefoot in a marsh to get to the beach. Leila isn't sure she is going the right way and certainly doesn't remember it being so muddy which is why she didn't bother wearing shoes. Her bare feet get sucked into the soft mud and after a wrong step she gets both her legs stuck knee deep in mud. She struggles and manages to get her legs free fairly quickly and keeps going thinking the mud can't get worse. After only a few steps she is stuck again and she swears and complains about getting so muddy. This time she is thigh deep and has to struggle really had. She grunts as she tries pushing against the mud and then she starts to get worried when she realizes she is still sinking and now her butt is getting muddy. She is very determined and is able to drag her body on top of the mud by wiggling her hips and pushing against the mud. But once she goes to stand up the mud sucks her back in down to her waist. She is very frustrated and tired but with no one around to help her the only option is to keep struggling. This time she grabs hold of firmer ground and pull herself forward onto more solid ground. She gets her bikini top covered in mud in the process and once she is out and standing on solid ground she has lost all interest in going to the beach. She tries to brush the mud off but it just spreads on her body so she walks off to go home and clean up.

Report